Art of Soul: Curated by Teaira Gray
This month's Art Center exhibit, "Art of Soul," features seven talented local black artists and was curated by Teaira Gray.
Featured Artists: Teaira Gray (Wisterni), Jamari Taylor (Jaylei Art), Escada "Darklord" Gordon, Aerick Burton, Shaquona Espinoza, Dani Lew, & Jaziel Pugh.
The exhibit runs from August 5th to 26th, with a reception on Sunday, August 13th from 3-5pm.
Come see their fantastic work!
---
Summer Art Camp: It's a Bugs Life
The Art Center of Battle Creek is pleased to offer an opportunity for kids to explore the visual arts, with hands-on activities during the summer months.
Kids enrolled in the Summer Art Camp will explore our world of bugs and get the opportunity to create their own using a wide variety of media including clay, sculpture, drawing, painting, and more all taught by art educators and artists.
While we have two Summer Art Camps listed, we ask participants to sign up for only one camp as we have to limit the number of students that can attend each camp.
 Camp 1
August 8-10, 2023
Time: 10 a.m – 3 p.m
Cost: $60 (Members) / $75 (Non-Members) (all supplies included)

Ages 1st – 5th grade
(camp size limited to 12 campers in each session)
 Camp 2
August 15-17, 2023
Time: 10 a.m – 3 p.m
Cost: $60 (Members) / $75 (Non-Members) (all supplies included)

Ages 1st – 5th grade
(camp size limited to 12 campers in each session)
Summer Art Camps Include:
A chance to explore a variety of fun ways to create art in 3 days and 15 hours of fun!
The opportunity to combine their art creations with written or oral stories to enhance their experience and creativity!
Lunch break: Kids bring their own sack lunch, with drinks & snacks provided.
Registration Guidelines:
Registrations are accepted by phone or in person.
Deadline to register is July 22, 2023
For more information, please call the Art Center of Battle Creek: (269) 962-9511
---
75 Artists Exhibit
To celebrate the Art Center of Battle Creek's 75th Anniversary we are hosting an exhibit open to the public to participate in!
The theme for the exhibit surrounds the year we are celebrating, which is 75! The exhibit will be from May 2nd – May 27th. All of the works in the exhibit will be 7×5" or 5×7", with any medium being accepted (2D or 3D) as long as it fits within those dimensions and follows the guidelines listed in the form/contract. We want you to demonstrate your creativity through whatever medium you feel speaks to you! All artists 15 years old and up are invited to participate.
We would also like to work with 75 local businesses in the area who are interested in supporting artists and the Art Center by hosting their artwork in their businesses. We want to help foster a community that values art and each other!
We look forward to celebrating 75 years with the community of Battle Creek!
---
Class Act Is Back!
Class Act: Kindergarten through High School Art Show
March 4-25, 2023

Please join us for the Elementary School Reception on March 3, 2023 from 2-4 pm.
Please join us for the Middle/High School Reception on March 19, 2023 from 2-4 pm.
---
November 5 – December 23, 2022
The Art Center of Battle Creek will be holding an exhibit of Laura Gould's work from November 5 to December 23. Her work is presented through various of mediums, even luggage, with many pieces for sale! Please feel free to stop in and take a look at her amazing work, before the end of the year!
---
November 5 – December 23, 2022
It's that time of year again, join us this winter season to celebrate our annual Holly Mart! This years Holly Mart theme will be "Kaleidoscope", with hopes that we can not only provide a unique place for Michigan artists to showcase their works, but also a place that offers a kaleidoscope of genres of art! Holly Mart will be open to the public from November 5 through December 23, with our current hours Tuesday through Thursday and Saturdays from 11 a.m. to 3 p.m.
We are always looking for new artists local to Michigan to join Holly Mart. We will start accepting items beginning October 15 to the 30. If you are an artist who would like to be apart of this year's Holly Mart, please feel free to contact The Art Center of Battle Creek!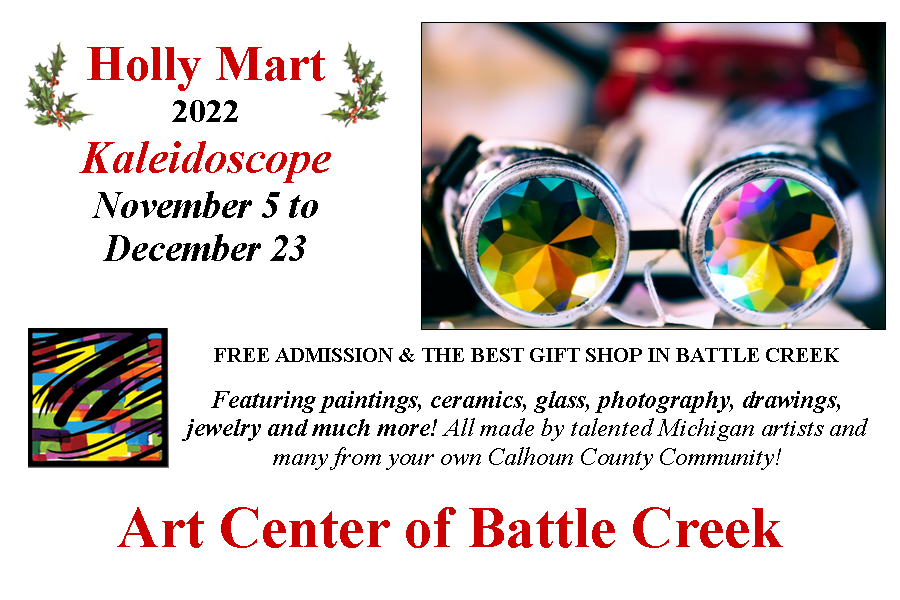 ---
September 24 – October 29, 2022
The Art Center of Battle Creek will host from September 24 through October 29 a special exhibit to celebrate Hispanic Heritage Month! Works from local Michigan artists Xenia Rose Schafer, Fausto Fernandez, and Coco Sweezy depicting their wonderful culture and heritage! Please Join us for their reception on September 24 from 4-7 p.m. to celebrate their amazing artwork.
---
September 8 – October 31, 2022
The Art Center of Battle Creek will host from September 8 through October 31 two special exhibits – The Holocaust Unfolds: Reports from Detroit Jewish News and From Darkness to Light: Mosaics Inspired by Tragedy – a response to the deadly Pittsburgh shooting at Tree of Life Synagogue. An opening reception will be held September 18 coinciding with the premier of the PBS Ken Burns documentary, The U.S. and the Holocaust.  Click here for more information.
---
2022 Exhibits
May 10 to June 25: Four Corners exhibit of photography from KCC Digital Photography Students
July 16: Kids' Art Fair  10 am to 2 pm
July 5-August 27: The Art of the Skateboard
September 8-October 31: The Holocaust Unfolds: Reports from the Detroit Jewish News and News Chronicle, a national traveling exhibition
---
Spring 2021: Art Has "A Peel"
It's time to have some fun! Use you imagination and create a work of art (or 2) that incorporates fruit or vegetables in some way. The sky is the limit – except no real fruit or vegetables!
No entry fee. Categories from ages 4 and up, as well as families. Work due between march 30 and April 10. Exhibit will be on display April 13 – May 26, 2021. Need inspiration? Come see our "Pre" A Peel exhibit March 2-30.
********
2020 Exhibits
(Dates subject to change)
February 6-29: Art Center Student/Faculty Exhibit
March 8-28: Class Act: Elementary through High School Art– the only venue in Calhoun County featuring artwork from Kindergarten through 12th Grade from area schools and the CISD area. MORE INFO
April 9-May 30:  Journey to Freedom Anniversary Exhibit-Anniversary of the 2002 Journey to Freedom Celebration in Battle Creek. In honor of Velma Laws Clay featuring artwork from the collection of Velma Laws Clay and Vivian Laws Ritter. ALSO: Art and Soul Kids in the Back Gallery in partnership with Art and Soul Dreams-Every Child is a Work of Art.
June 4-July 25: Past in the Present: Ancient and Medieval History Right Here in Battle Creek– organized by KCC Professor Liz Neumeyer  features the architecture of downtown Battle Creek-Willard, Miller-Stone, St. Philip and St. Thomas. Collaboration with the Historical Society of Battle Creek and Kellogg Community College.
July 14-16: Kids Summer Camp
July 18: Kids Art Fair held in the Art Center's parking lot. Free event with activities for all ages.
August 18-22: Mega Artarama Sale held in the Art Center's galleries. Great bargains on lots of artwork and art supplies.
September-October: The Holocaust Unfolds: Reports from the Detroit Jewish News and News Chronicle
November and December: Work by Local Well-Known Artists and Educators: Craig Bishop and Dallas Shoesmith
November and December: Holly Mart: annual holiday sale featuring work of all kinds and prices by over 100 Michigan artists.