75 Artists Exhibit
To celebrate the Art Center of Battle Creek's 75th Anniversary we are hosting an exhibit open to the public to participate in!
The theme for the exhibit surrounds the year we are celebrating, which is 75! The exhibit will be from May 2nd – May 27th. All of the works in the exhibit will be 7×5" or 5×7", with any medium being accepted (2D or 3D) as long as it fits within those dimensions and follows the guidelines listed in the form/contract. We want you to demonstrate your creativity through whatever medium you feel speaks to you! All artists 15 years old and up are invited to participate.
We would also like to work with 75 local businesses in the area who are interested in supporting artists and the Art Center by hosting their artwork in their businesses. We want to help foster a community that values art and each other!
We look forward to celebrating 75 years with the community of Battle Creek!
---
Holly Mart 2022 'Kaleidoscope'
It's that time of year again, join us this winter season to celebrate our annual Holly Mart! This years Holly Mart theme will be "Kaleidoscope", with hopes that we can not only provide a unique place for Michigan artists to showcase their works, but also a place that offers a kaleidoscope of genres of art! Holly Mart will be open to the public from November 5 through December 23, with our current hours Tuesday through Thursday and Saturdays from 11 a.m. to 3 p.m.
We are always looking for new artists local to Michigan to join Holly Mart. We will start accepting items beginning October 15 to the 30. If you are an artist who would like to be apart of this year's Holly Mart, please feel free to contact the Art center!
---
Garage Sale Oct. 22, 2022
Saturday, October 22, 11 a.m. – 3 p.m.
Please join us for another garage sale hosted by the Art Center of Battle Creek! If you love to thrift, then you will love what we have! Featuring books, house hold items, household appliances, and much more!!
---
Hispanic Heritage Month Exhibit
The Art Center of Battle Creek will host from September 24 through October 29 a special exhibit to celebrate Hispanic Heritage Month! Works from local Michigan artists Xenia Rose Schafer, Fausto Fernandez, and Coco Sweezy depicting their wonderful culture and heritage! Please Join us for their reception on September 24 from 4-7 p.m. to celebrate their amazing artwork.
---
The Holocaust Unfolds & From Darkness to Light Exhibit
The Art Center of Battle Creek will host from September 8 through October 31 two special exhibits – The Holocaust Unfolds: Reports from Detroit Jewish News and From Darkness to Light: Mosaics Inspired by Tragedy – a response to the deadly Pittsburgh shooting at Tree of Life Synagogue. An opening reception will be held September 18 coinciding with the premier of the PBS Ken Burns documentary, The U.S. and the Holocaust.  Click here for more information.
---
Be Inspired 2021
A collaborative exhibit: Kingman Museum and you at the Art Center of Battle Creek
August 7-14 PART I
Visit Art Center exhibit to find inspiration from Kingman Museum artifacts and create your own original artwork. Pick up entry forms to participate in Part II. Download entry form here.
OPENING RECEPTION:
Sat Aug 14, 1-4PM
Aug 23-Sept 4
Turn in completed artwork and form to Art Center, ready to display.
Sept 7-30 PART II
Artwork will be displayed along with museum pieces that inspired the art.
COLLABORATION RECEPTION
Sun Sept 12, 1-4pm
---
Art Has "A Peel"
It's time to have some fun! Use you imagination and create a work of art (or 2) that incorporates fruit or vegetables in some way. The sky is the limit – except no real fruit or vegetables!
No entry fee. Categories from ages 4 and up, as well as families. Work due between march 30 and April 10. Exhibit will be on display April 13 – May 26, 2021. Need inspiration? Come see our "Pre" A Peel exhibit March 2-30.
---
Winter 2021 Classes
The Art Center is offering a limited schedule of classes for winter 2021, with registration by phone or in person only.
********
Holly Mart Schedule & Annual Report
The Art Center is now open Tuesday, Wednesday, Thursday and Saturday from 11am to 3pm for Holly Mart through December 23.
Download our Annual Report here
---
Limited Fall Class Schedule + Happy Birthday Dallas!
The Art Center is offering a limited schedule of classes for fall 2020, with registration by phone or in person only.
We're also celebrating Dallas Shoesmith's birthday!
Come celebrate Saturday, Sept. 26, 1-3pm OUTSIDE, or Wednesday, Sept. 30, 11am-3pm at the Art Center. Masks and social distancing are required to attend.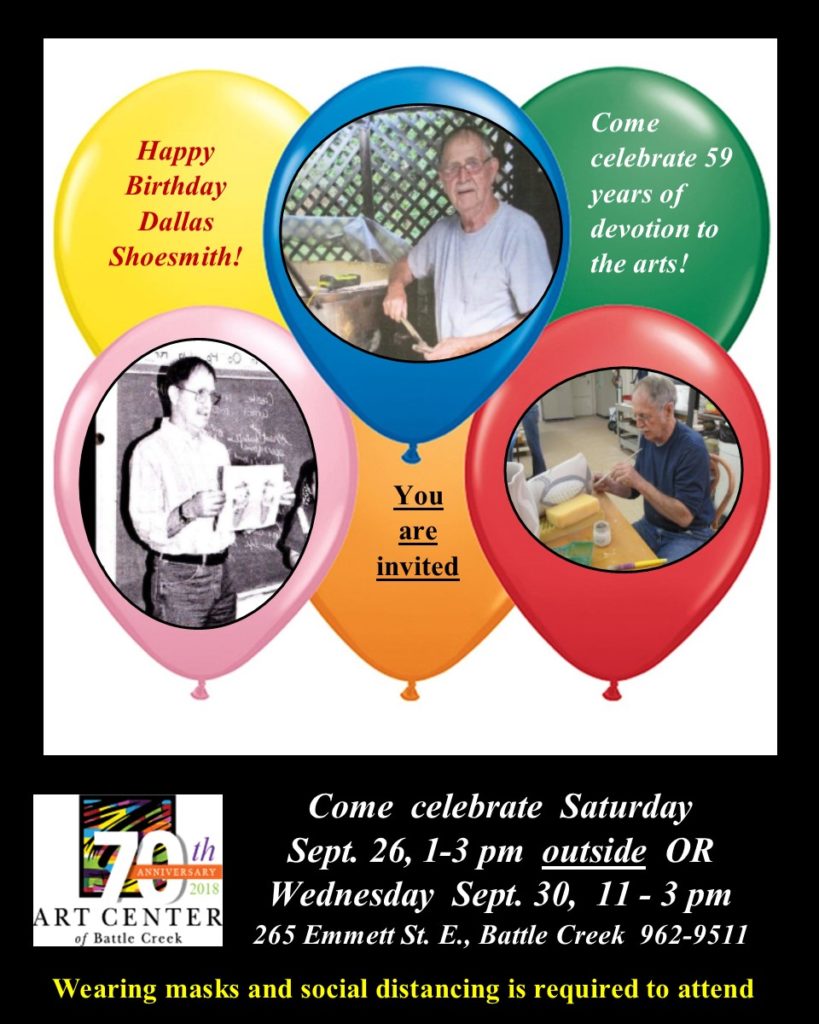 Re-Opening Update
Art Center galleries and gift shop will be open starting Tuesday, September 8 from 11am to 3pm.
Our hours will be Tuesday through Thursday from 11 am to 3 pm
We follow all CDC guidelines and have the following 4 safety steps in place: Mask on, wash up, spread out and sign in!
Limited classes will begin the week of September 21. Appointments can be made to finish up work from the previous semester. Staff will be calling all students with updates.
Our September and October exhibition will be "Masks!"
********
Art Center Re-Opening Plan
June 22, 2020
Dear Art Center member and friend,
The Art Center of Battle Creek staff and board hope that you are well during this very difficult time! We are eager to open our doors but also have the responsibility of ensuring the health and welfare of our visitors, students, members, volunteers and staff.
The Board of Directors has just approved a 3-tiered plan to re-opening the Art Center of Battle Creek. This plan is based on information and guidance from the Centers for Disease Control (CDC) and the Occupational Health and Safety Administration (OSHA). Because the COVID-19 situation is frequently changing, the need for modifications may occur based on further guidance from these organizations as well as local information.
The tentative plan is as follows.
Staff will return to work the week of September 1 (staff are currently furloughed).
The upper floor (galleries and gift shop) will open beginning Tuesday, September 9. We are using the guidelines of no more than 10 visitors allowed into the galleries and 5 people in the gift shop at a time.
The Fall semester of classes will begin the week of September 21. Class sizes will need to be held to a minimum as well as the number of classes we can hold at one time. We are in the process of contacting the instructors to see if they are ready to get back to teaching. We are determining the number of students we can safely accommodate in the classrooms. As the studios all have a large amount of equipment that is commonly shared we will need the cooperation of all the students to make this a safe environment.
We are following all CDC guidelines established which includes wearing masks inside the building and providing contact information in case of illness.
If you were a student in the Winter semester that had to end early because of our closure, you will be contacted. We apologize for the inconvenience this closure has caused. Credits for use in  the coming semester will be issued for classes that were missed from your last class. We will contact you with that information and any updates we can provide.
Please bear with us as we make adjustments to schedules and procedures. Our topmost concern is the health of all of us. Thank you for your patience.
Linda Holderbaum, Executive Director